"The Gene Age" Travelling Exhibition
The outdoor travelling exhibition, together with a website containing an online version of the exhibition, aims to introduce the general public to the basics of genetics and the DNA molecule in relation to rare genetic diseases, their diagnosis and possible treatment in an entertaining way.
The purpose of the exhibition is to raise awareness and education on the issue of the contribution / influence of genes and their mutations in the emergence of human diseases, especially rare diseases, to popularize this issue, and to highlight the inclusion and integration of people with rare diseases into society.
The exhibition is organized jointly by the non-profit organization ASGENT and the Czech Centre for Phenogenomics at the Institute of Molecular Genetics of the CAS with the grant support of Erasmus+ and the Strategy AV21 programme of the Czech Academy of Sciences "Towards Precision and Gene Therapy – A New Hope in the Treatment of Human Diseases".

---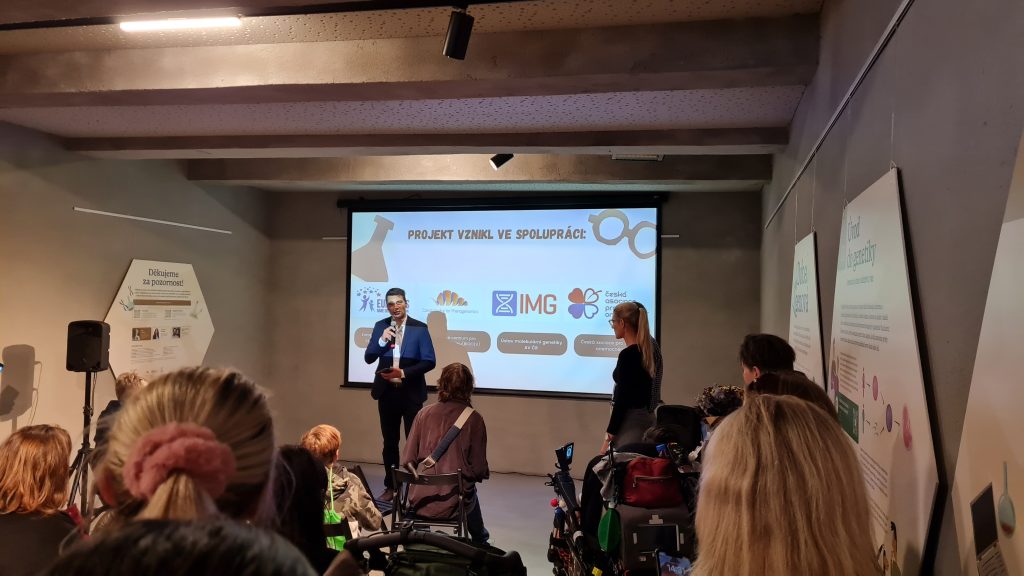 The opening ceremony of the exhibition took place on Saturday 7 October 2023 on Prague's Smíchov Embankment.
Jan Procházka from the Czech Centre for Phenogenomics explains the principles of gene therapy during a discussion moderated by Daniel Stach during the opening ceremony of the exhibition.
"Laboratory" for young scientists, organized by Vendula Novosadová and Zuzana Nichtová from the Czech Centre for Phenogenomics, met with great interest among the participants.