Orbis Pictus Award 2020 to Elizabeth Hillman
The Orbis Pictus 2020 Award, sponsored by the Czech Centre for Phenogenomics, was awarded to Elizabeth M. C. Hillman, one of the most outstanding investigators in the fields of biophotonics and bioengineering.
The Orbis Pictus Lecture was presented on the occasion of the 16th Transgenic Technology Meeting (TT2020).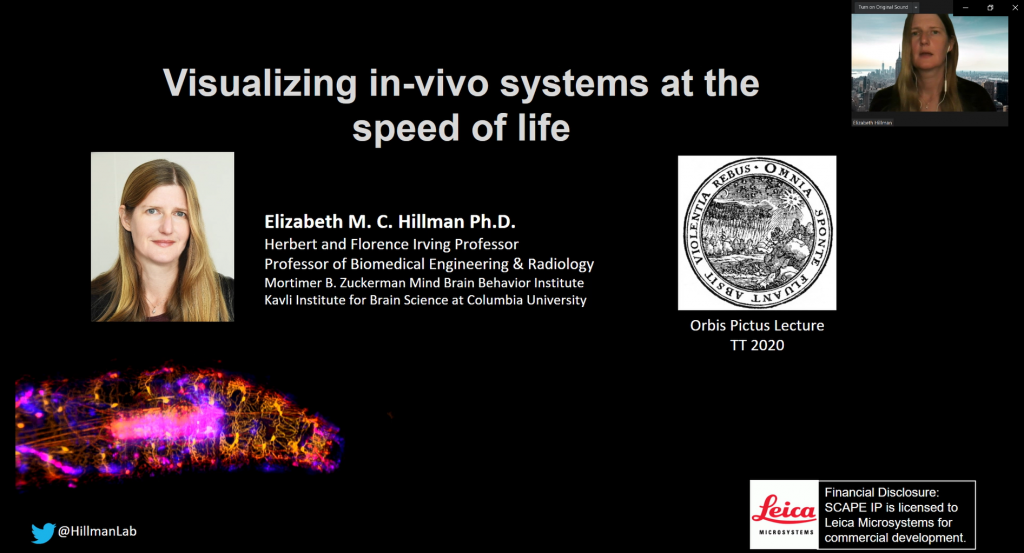 Elizabeth M.C. Hillman is a Professor of Biomedical Engineering and Radiology at Columbia University and a member of the Zuckerman Mind Brain Behaviour Institute.
Dr Hillman's research focuses on the development of high‐speed and multiscale in vivo optical imaging and microscopy techniques and their application to imaging neural activity and blood flow dynamics in the living brain. She is particularly known for her development of disruptive optical imaging technologies, in parallel with her groundbreaking research into basic brain physiology. As well as pioneering a number of breakthrough optical imaging techniques, she has also made seminal contributions to the life sciences by her extremely smart and innovative use of these technologies.
Elizabeth Hillman has received numerous awards and honors including National Institutes of Health (NIH) BRAIN Initiative grant, and the SPIE Biophotonics Technology Innovator Award in 2018.