Czech Centre for Phenogenomics
Dear Colleagues,
The summer season is time for holidays and relaxation! You may however still be interested in the latest updates from the Czech Centre for Phenogenomics. We have collected news regarding CCP events, such as the 4th CCP Phenogenomics Conference in September, new technologies, and publication achievements.
We hope you will find interesting content in this newsletter. Please also check our other information channels, for example our website (www.phenogenomics.cz), and follow our Twitter account @CZphenogenomics.
Radislav Sedlacek and the CCP team
Coming soon - CCP Phenogenomics Conference on
Rare Diseases: Experimental Models & Delivery of Therapies
Since 2019, the annual CCP Phenogenomics Conferences have become a real highlight of CCP's activities so we are looking forward to the 4th CCP Phenogenomics Conference, which takes place on 15-16 September. We have opted for a hybrid format - personal participation at the BIOCEV campus in Vestec is encouraged, but we also welcome virtual participation if travelling is not an option. The scientific committee has selected the topic "Rare Diseases: Experimental Models & Delivery of Therapies" as the main thematic focus of the 2022 conference. Keynote speakers are Ophir Klein, University of California, San Francisco, USA and Len Pennacchio, Lawrence Berkeley National Laboratory, USA.
We are confident that the conference will again offer an excellent opportunity to extend networking and deepen interactions between users & collaborators, CCP staff, and experts from the commercial sector. Visit Conference website for details on the program, keynote and invited speakers, and the registration.
28 August 2022 (for active participants, i.e. participants who wish to submit an abstract)
11 September 2022 (for passive participants, i.e. without an abstract)
Towards precision medicine and gene therapy
AV21 Strategy Programme of the Czech Academy of Sciences coordinated by the Institute of Molecular Genetics
The Strategy AV21 of the Czech Academy of Sciences responds to current social challenges through a sophisticated formulation of research programmes, based on the cooperation of scientific fields and institutions. In January 2022, a new research programme "Towards precision medicine and gene therapy" coordinated by the Institute of Molecular Genetics of the Czech Academy of Sciences was approved by the Science Council of the Czech Academy of Sciences. Radislav Sedlacek, Director of the CCP and coordinator of the programme, has outlined three main objectives: 1) to characterize new pathogenic gene variants that can serve as new gene therapy targets, 2) to provide proof-of-concept of gene therapy for specific diseases in vitro and in vivo models, and 3) to develop new tools for gene/drug delivery. The CCP will contribute to a research project on "New Therapies for Rare Diseases of the Central Nervous System and Skin". You can find further information here.
ICRI 2022 satellite event: Global and European Infrastructures IMPC and INFRAFRONTIER Towards the Deciphering of Gene Functions for Human Health
18 October 2022, Brno, Czech Republic
The ICRI is held every two years to bring together stakeholders in the field of research infrastructures. The Czech Presidency of the Council of the European Union invites you to ICRI 2022 in Brno from 19 to 21 October. ICRI2022 provides a platform for high-level dialogue between decision-makers, operators, and users of research infrastructures. On this occasion, IMPC and INFRAFRONTIER organize a satellite event aiming to showcase the scientific achievements and impact on various areas of human disease research, sharing their experience of the management of the scientific data produced. They will also describe how IMPC and INFRAFRONTIER strive together with medically focused RIs, EATRIS, BBMRI and ECRIN, to establish a novel transformative European platform, which will provide state-of-the-art equipment, technologies, and expertise to clinicians, basic researchers and companies working on innovative curative therapies for human diseases.
Details about the satellite event can be found here and about ICRI2022 here.
Two promotional videos were recently completed and published on the CCP website, illustratively explaining the mission and vision of this research infrastructure in easy-to-understand terms. The videos were shot by a professional team on the premises of the CCP with the support of the Central Bohemian Region and the Operational Programme Research, Development and Education.
Why not take a quick look at the videos?
EU ministers visited Czech Centre for Phenogenomics on the occasion of the Czech Presidency
On July 21 2022, a delegation of representatives of the Council of the EU and the Ministry of Education, Youth and Sports visited the BIOCEV, a joint centre of the Czech Academy of Sciences and Charles University in Vestec near Prague. The goal was to present large research infrastructures and their potential for collaboration in solving global challenges.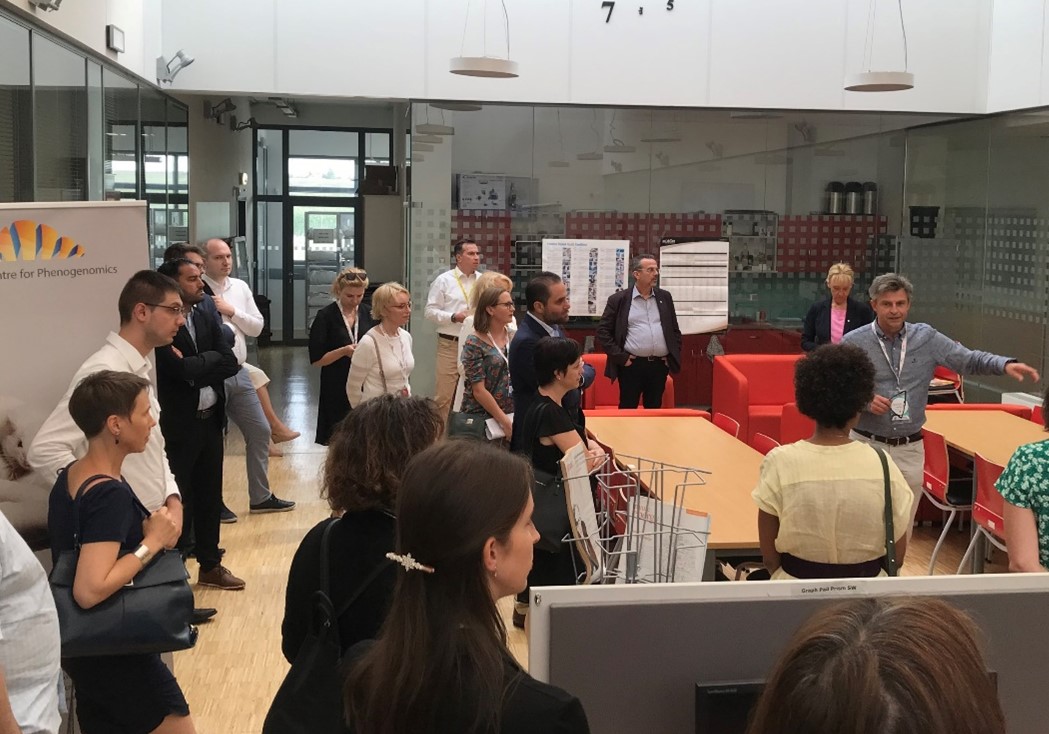 Radislav Sedlacek (right) introducing the organization of the CCP to the delegates.
Highlight publication I:
"Full Assessment of Lung Mechanics Using Computer-Controlled, Forced Oscillation Technique" in Current Protocols
CCP scientists recently published a paper in Current Protocols providing a detailed description of lung phenotyping in mice. Experimental mouse models for lung diseases have been of great importance for basic research and preclinical studies not only since the appearance of Covid-19. Based on the forced oscillation technique (FOT), which is also used in human patients, important phenotyping data on lung function can be collected in mice. The setup is highly technical and the measurement procedures require great experience. At the CCP, the Lung Module team has successfully established the methodology and can offer it as expert technology in lung function studies. You can find the paper here. Contact our experts via our website.
Highlight publication II:
"Monoclonal antibodies targeting two immunodominant epitopes on the Spike protein neutralize emerging SARS-CoV-2 variants of concern"
The emergence of new SARS-CoV-2 variants that harbour mutations in the viral S protein raised concern about the activity of current vaccines and therapeutic antibodies. CCP participated in the research study aiming to find new tools for COVID-19 therapy based on the novel monoclonal antibodies. The results were recently published in EBioMedicine belonging to the Lancet journals.
Summary of findings: Newly developed second-generation antibodies were specifically selected for their ability to neutralize the new variants of SARS-CoV-2. AX290 and AX677, two monoclonal antibodies with non-overlapping epitopes, exhibit subnanomolar or nanomolar affinities to the receptor binding domain of the viral Spike protein carrying amino acid substitutions found in the circulating virus variants. The antibodies showed excellent neutralization of an authentic SARS-CoV-2 virus representing strains circulating in Europe in spring 2020 and also the variants of concern B.1.1.7 (Alpha), B.1.351 (Beta) and B.1.617.2 (Delta). In addition, AX677

can bind the Omicron and wild-type spike proteins in a similar manner

. The combination of the two antibodies prevented the appearance of escape mutations of the authentic SARS-CoV-2 virus. Prophylactic administration of AX290 and AX677, either individually or in combination, effectively reduced viral burden and inflammation in the lungs and prevented disease in a mouse model of SARS-CoV-2 infection. A full text is available at

eBioMedicine

.
News from the Phenotyping Module:
New custom services in the Immunology Module: Automated Cellular Proteomics (IsoLight platform)
The CCP Immunology Module offers automated single-cell proteomics analysis for functional immunophenotyping and phospho-protein analysis. IsoPlexis technology coupled with an IsoLight system provides a multi-omics, chip-based measurement of functional assays at a single cell level. The IsoLight eight-chip system measures more than 30 pre-selected molecules, allowing for a complex characterization of individual cells. Thereby, IsoPlexis provides an accurate representation of the dynamic in vivo biology of human, murine and NHP cell samples.
CCP services provide a range of specialized assays that can be tailored to the features of various biological samples. Our immunology specialists and technicians will support you in developing and optimising protocols for the preparation and enrichment of your cells of interest.
Our immunology specialists and technicians will support you in developing and optimising protocols for the preparation and enrichment of your cells of interest.


Automated analysis of IsoLight data is completed using the IsoSpeak software, allowing rapid and unbiased graphical results. The IsoLight system was launched at CCP in collaboration with our partner Accela.
Open Calls:
First call to access the ISIDORe resources dedicated to SARS-CoV-2 and COVID-19 research
CCP offers the following services within the ISIDORe open calls:

Generation of precision mouse models
Humanization of mouse model cohorts by - AAV-driven hACE2 expression
Generation of knock-out mice (service starting 2023)
Generation of knock-in mice (service starting 2023
Jobs at CCP - we are hiring!
For currently open positions please visit our website.
Czech Centre for Phenogenomics
Institute of Molecular Genetics of the
Czech Academy of Sciences